For Underhung Crane Consider Load Height Effect to
Increase Crane Beam Flexure Capacity
---
Underhung crane beam that is loaded on the bottom flange has increased
resistance to buckling compared to a similar beam loaded on the top flange.
When a load on the bottom flange moves with the beam during buckling, it
causes an additional moment about the shear center of the beam.
This moment is opposite to the twist rotations of the beam, and therefore,
resists the tendency of the beam to buckle.
By the same reasoning, top flange loading causes an additional moment
about the shear center which is additive to the twist rotations of the beam.
Buckling resistance is therefore decreased.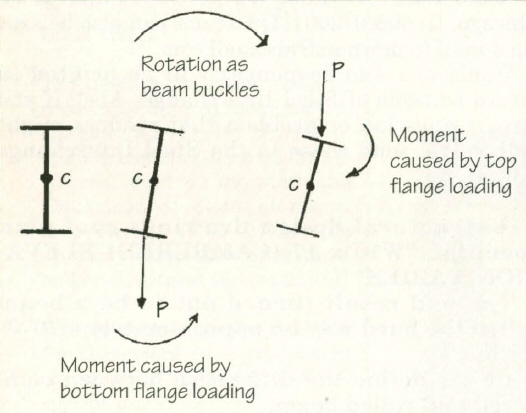 The author suggests user to select Yes
here to take advantage of above
facts and achieve an economical design.
The increased crane beam flexure capacity is addressed via adjustment to
the bending coefficient C
b
in AISC.
When
Yes
is selected, the C
b
is increased as
Cb x1.4 but less than 3.0
as
per Guide to Stability Design Criteria for Metal Structures 6Ed by Ronald
D Ziemian.
---
AISC 360-10 LRFD 2010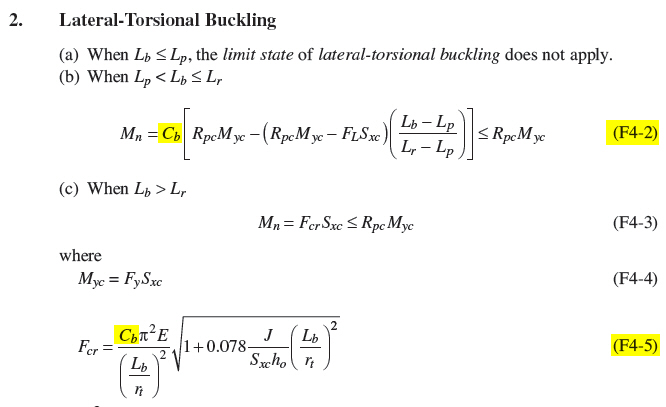 ---
Guide to Stability Design Criteria for Metal Structures 6Ed by Ronald D Ziemian